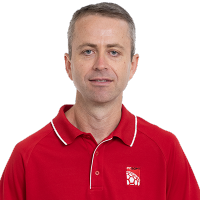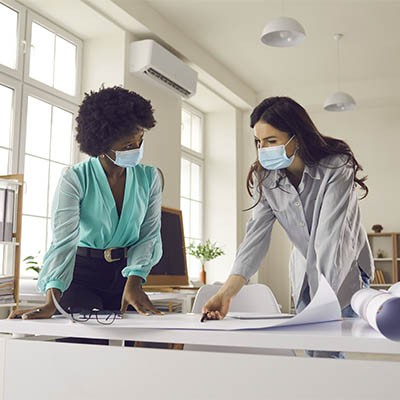 Are You Going to Allow Your Workers to Go Back to the Office Part-Time?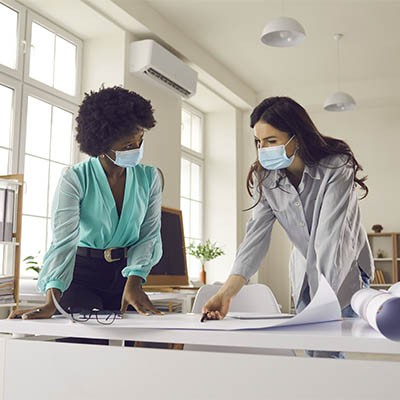 As COVID-19 vaccines keep rolling out, there is a big question of what's next for the modern small business. How are businesses going to operate once it is relatively safe to go back to the workplace? This month we thought we'd briefly discuss the issue of creating a hybrid work model and how in the world businesses are going to manage it.
For the past year plus you have a workforce that has been working remotely after many businesses had scuttled the idea for years prior to the COVID-19 outbreak and subsequent stay-at-home mandates. Can small business owners really expect their workforce to return to the workplace as if nothing has happened? Let's look at it from both perspectives.
Employers
From many employers' perspective, having their staff work from home was a means to an end. If their staff could do their jobs from home, they didn't have much other choice. To keep revenue flowing, they needed to get people productive, but with the risks to employee health, remote strategies were enacted. Some employers have publicly stated that they plan on returning to business-as-usual with employees returning to work full time. Other companies have stated that they will continue supporting a remote workforce. Others have left the decision up to the employees.
In the long term, however, what will the small business of the future look like?
Well, one thing is for sure, business owners that invested in a lot of the digital tools that were used to manage business effectively during the pandemic, don't just want to eat that money. How could they? That's one way the hybrid work model makes sense. Since they have already made the investment in remote tools, outsourced services, and more, allowing their staff to work from home part of the time seems to make financial sense...as long as they remain productive.
On the other hand, a vast majority of small business owners that had to move their staff off site were extremely inflexible about remote work leading up to the pandemic. In fact, over 40 percent of businesses waited up until the very last days before stay-at-home mandates were issued to allow their employees to work remotely. Some of this was because they didn't have the technology in place, but some were also just afraid of productivity dropping too far with all the distractions their workers have at home.
While it was impressive how businesses were able to quickly pivot to a remote work strategy, it clearly wasn't the most productive year Americans have had. It's going to be important that employers understand that by stripping their currently-remote employees of the flexibility to work from home they are effectively making a decision that they are going to have turnover, as some workers, who may not have had the opportunity to work from home previously have found comfort in it and won't want to return to the workplace.
Employees
For the employee, it can go either way, which is why there is a good chance that most businesses will find a happy medium. Some employees can't wait to get out of their house and get back to work. Some people never want to work at a brick and mortar location ever again. Some people are still juggling other issues that will require them to have the flexibility that they've had during the span of the pandemic.
Regardless of where your employees fall, there are some serious issues that need to be addressed in order for them to feel comfortable back at work. Firstly, sanitation is going to be a big issue for many. Most people that go back will be vaccinated, but studies show that they are demanding safeguards be put in place to keep them from getting sick at work. Will workers be comfortable going back to work with unvaccinated people? Will the business have health and safety protocols updated to cover their concerns?
It will be interesting to see how businesses handle employee concerns especially when, for over a year, they have completed their jobs remotely. Nearly three-out-of-every-five employees say that their jobs can be completed remotely, and having done it for a year plus, should be allowed to continue because it's effectively a win-win for the company. It's well-known that small businesses that could go completely remote during the pandemic saved a substantial amount of money on utilities, infrastructure costs, security, and more. It's hard to tell someone that has done a job for over a year that they can't do the same job from the same place, just because. Companies will have to justify their decision to their staff which is unprecedented in non-unionized companies.
Regardless of what type of work strategy you choose, PCSOFT has the technical expertise to help you control your technology costs and reduce downtime. Give us a call at 02 98730080 to discuss this issue with one of our technicians today.
Comments
No comments made yet. Be the first to submit a comment
By accepting you will be accessing a service provided by a third-party external to https://www.pcsoft.com.au/